CAADS Events At-A-Glance
CAADS Hosted Webinar: Advancing Innovation in Medi-Cal – CalAIM: An Overview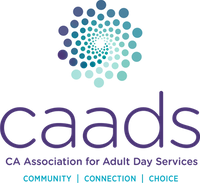 WHAT WE WILL COVER
Join Claire Ramsey, Senior Staff Attorney at Justice in Aging, and Sarah Steenhausen, Director of Policy and Advocacy for The SCAN Foundation, as they walk through CalAIM's provisions and associated timeline for implementation, with discussion on what it means for you and your CBAS community.
CalAIM is a multi-year state initiative that seeks to implement broad delivery system, program and payment reform across the Medi-Cal program. The major components of CalAIM build upon various demonstrations by focusing on a whole-person care approach to care that targets social determinants of health and reduces health disparities and inequities.
Learn about how CalAIM impacts will impact the LTSS system in California, including proposed statewide expansion of Managed Long-Term Services and Supports, Enhanced Care Management and In-Lieu of Services.
PRESENTERS
Claire Ramsey, Senior Staff Attorney, Justice in Aging
Claire Ramsey joined Justice in Aging's Health Care team in June 2016 and is based in Oakland, California. Claire formerly worked as a staff attorney at the Legal Aid Society of San Mateo County where she represented seniors on issues involving health care, public benefits, and elder abuse. Prior to Legal Aid, Claire worked at Child Care Law Center, first as an Equal Justice Works fellow and then as a staff attorney. She received her law degree from UC Hastings College of the Law in 2006 with a concentration on Public Interest Law. Claire received her B.A. in English from UC Berkeley and her M.A. in Drama from San Francisco State University.
Sarah Steenhausen is Director of Policy and Advocacy for The SCAN Foundation. In this role, Sarah partners with stakeholders and policymakers at the state and federal levels to develop, inform, and advance policy solutions aligned with the foundation's mission to improve the system of care serving older adults, people with complex care needs, and their family caregivers.
Sarah holds a Master of Science in Gerontology from the USC Davis School of Gerontology. Outside of work, Sarah enjoys cooking, hiking and spending time with her family.
REGISTRATION
NON MEMBERS: $49 Per Registrant (See Registration link below)
CAADS MEMBERS: No Charge (A benefit of membership!) (Login to the CAADS Members page to access REGISRATION LINK on the Webinars FREE to CAADS Members tab)