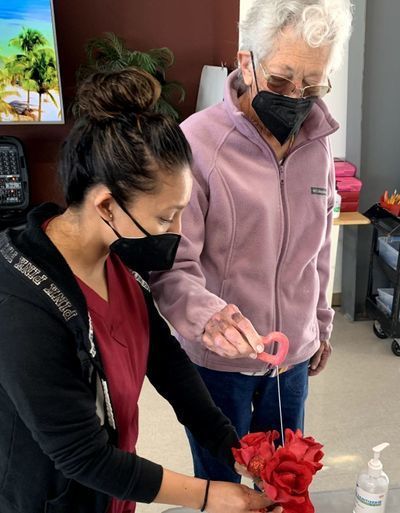 What Are Adult Day Services
---
Listen to a short podcast about the different models of Adult Day Services in California -- the medical model provided by Adult Day Health Care (ADHC) / Community Based Adult Services (CBAS) facilities, and the non-medical Model provided by Adult Day Programs (ADP).
Adult Day Services Overview (Video linked)

Adult Day Services programs offer a safe, positive, caring alternative to nursing home care for those who do not need 24-hour skilled nursing. These programs are designed to help people stay mentally and physically active, reduce isolation, improve their health, and prevent the decline of their abilities.
People typically attend a center in their community two to five times a week, based on their individual needs. All programs either provide or can assist with transportation arrangements. Program hours typically range from four to eight hours per day; however, some centers offer extended hours to accommodate working caregivers. Many centers also provide caregiver support groups and training.
Services vary from center to center but may include therapeutic activities such as art, singing, age-appropriate games, health monitoring, social work, meals, dietary counseling, physical, occupational, and speech therapy.
Some programs focus on a specific population -- for example those who share a similar cultural or ethnic background or younger adults with head injuries or developmental disabilities. Families also receive help with information and referral to other services, as needed.
---
California's licensed adult day services centers may operate as one or more program types.
---
Adult Day Health Care (ADHC)
Licensed by California Department of Public Health (CDPH)

ADHC centers offer a medical model of care through an outpatient day program for older persons and adults with chronic medical, cognitive or mental health conditions and/or disabilities that are at risk of needing institutional care.
A coordinated team of licensed professionals, including nurses, social workers and physical, speech and occupational therapists, focus on medical, preventive, and social care to improve health outcomes for high-cost / high-risk patients. Also provided are activities, personal care, hot meals, nutritional counseling, and transportation to and from the center. The majority of participants are Medi-Cal beneficiaries. To serve Medi-Cal beneficiaries, an ADHC must be certified by the California Department of Aging as a Community Based Adult Services (CBAS).
Effective April 1, 2012, Medi-Cal beneficiaries are subject to the state's eligibility criteria for Community Based Adult Services (CBAS) and must be in Medi-Cal managed care where available and required.
---
Community Based Adult Services (CBAS)
Licensed by California Department of Public Health (CDPH) as an ADHC facility
Certified by California Department of Aging (CDA) as a CBAS provider serving Medi-Cal beneficiaries
CBAS centers are licensed Adult Day Health Care (ADHC) facilities approved by the state to provide a medical model of care to Medi-Cal beneficiaries (individuals who qualify based on income).
While CBAS services are the same as described under Adult Day Health Care (above), Medi-Cal beneficiaries must meet strict CBAS eligibility requirements, and, with few exceptions, must enroll in a Medi-Cal managed care plan or county organized health system, if one exists in the beneficiary's county of residence.
---
Adult Day Program (ADP)
Licensed by California Department of Social Services Community Care Licensing Division
ADP centers offer a non-medical model of care through a day-time program for elderly and younger adults with a focus on protective supervision by trained aides, structured activities, health monitoring, meals, out-of-home respite and support for the caregiver.
---
Adult Day Vendorized Program (ADVP)
Programs in day center settings are licensed by the California Department of Social Services Community Care Licensing Division
Programs-Without-Walls designated by Regional Centers do not require licensure
California has 21 Regional Centers with more than 40 offices located throughout the state that serve individuals with developmental disabilties and their families.
Regional centers are nonprofit private corporations that contract with the Department of Developmental Services to provide or coordinate services and supports for individuals with developmental disabilities.
An Adult Day Vendorized Program exclusively serves Regional Center clients in either a day center setting, or in a community learning or work environment commonly known as Programs-Without-Walls.
---
Alzheimer's Day Care Resource Center (ADCRC) Designation
A specialty designation by the state for a licensed ADP and/ or ADHC / CBAS center
ADCRC designation was granted to licensed ADP or ADHC / CBAS centers offering specialized Alzheimer's care for moderate to late-stage Alzheimer's patients or persons with similar conditions. A highly trained team applies a philosophy of care emphasizing dignity and respect while fostering optimal independence according to each patient's level of functioning. Also provided are caregiver respite and support.
ADCRC designation by the State of California was tied to start-up grants; those grants are currently not available.  However, recent 2021 legislation has opened the door to future possibilities.  Stay tuned for more to come as the return of ADCRCs develops.