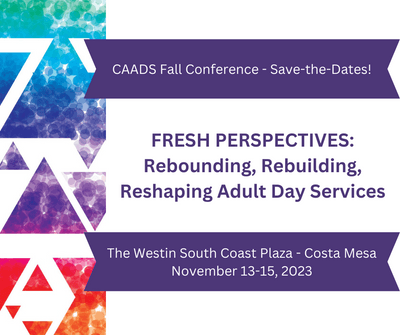 ---
CAADS Fall Conference 2023 in

 Costa Mesa
Join us at The Westin South Coast Plaza Hotel for the CAADS Fall Conference November 13-15, 2023!
---
We are thrilled to let you know that planning is moving quickly now in anticipation of registration and program materials being released in early to mid-September for the November 13-15 Fall Conference and Annual Meeting at the Westin Hotel South Coast Plaza.
You will be happy to know that online registration will be back by popular demand.
New this year will be "intensive" classes on Wednesday morning, including panel sessions on Emergency Remote Services; Innovative Activities; and CalAIM Enhanced Care Management and Community Services.
Monday, Nov, 13 is Membership Meeting and State Partner sessions in the afternoon open to all, plus an important course on safety.
Tuesday, Nov. 14 will bring back the popular Peer-to-Peer discussion groups and fresh perspectives on clinical, administration, and person-centered activity content.
Your weekly CAADS newsletter will continue to feature conference content, deadlines, and updates so watch these pages and make your hotel reservations before the room block fills! Please note, the hotel registration cut-off is OCTOBER 23, 2023.
---
To get the special CAADS rate be sure to use the link we are providing here by clicking on the hotel image above. Please note, the hotel registration cut-off is OCTOBER 23, 2023.

A robust listing of sponsorship options and our exhibitor packages is now available! Click on the image above to download a PDF of the CAADS 2023 Fall Conference Sponsorship Invitation.

Contact Information listed at the bottom of the flyer directs questions to our Director of Education, Nicole Moureaux, at nicole@caads.org, who can also be reached by phone a 916.552.7400.

REGISTRATION IS OPEN! https://web.cvent.com/event/d6be44e6-57fa-45f9-8cba-75b02c2c5b1c/summary