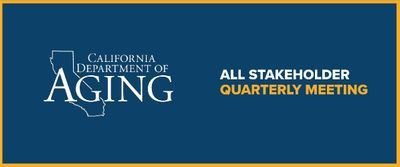 You're Invited to CDA's All Stakeholder Quarterly Meeting
Join CDA on October 21, 2020 for our All Stakeholder Quarterly Meeting!

This series of quarterly meetings aims to enhance communications with our valued stakeholders and partners by providing timely updates on CDA activities, and to hear what's on your mind and answer your questions.

Stay tuned for more details.
MEETING INFORMATION
When: Wednesday, October 21, 2020, 10:00 a.m. to 11:00 a.m.

Join via Webinar (Zoom) by smart phone, tablet or computer.
Or join by phone: 1-888-788-0099
Webinar ID: 986 9301 9947 | Webinar Passcode: 661202
Questions: Contact OLPA@aging.ca.gov

Please stay safe and stay engaged.

Regards,

The California Department of Aging
---

As caregivers, we always have to balance managing the needs of the people we care for and taking care of your own needs. Unfortunately, our own health and well-being as caregivers often suffers as responsibilities and tasks pile up. This session will focus on key aspects of well-being, and how to make time for daily check-ins with yourself. We will focus on building on your current coping and stress management activities.
Presenter: Amy Sobrino is a licensed clinical social worker specializing in working with people living with Alzheimer's disease and related dementia and their care partners. To see her full bio, please click here.
When: Wednesday, November 18, 11 a.m. to 12 noon (PT)
Where:  ONLINE
Cost: No Charge
Contact: Calvin Hu, chu@caregiver.org, (415) 434-3388 
Registration: Click here
---

ON-DEMAND WEBINAR
Keeping Your Population Healthy This Cold and Flu Season
With the CDC suggesting that the fall of 2020 and the winter of 2021 could be "one of the most difficult times we will experience in American public health," the time is to act now. 
In this on-demand webinar, industry experts share behavioral science-based best practices to help educate individuals across your population about why it's more important than ever to stay healthy this cold and flu season.
---

Focus on Aging: Federal Partners' Webinar Series
September 2020: Social Isolation and Loneliness
WEBINAR was held on Monday, September 28th, 2020, 2:00 — 3:30 p.m. ET
Human beings are social creatures, thriving on connections with others. These connections can help to reduce social isolation and loneliness and lower risk for a variety of physical and mental health conditions. This webinar will focus on how social isolation and loneliness affect older adults' health and well-being, particularly amid the unique challenges of the COVID-19 pandemic. The webinar will also address social isolation and loneliness in the context of Alzheimer's disease and related dementias, emphasize the impact of health disparities, and provide information on potential interventions and mitigating technologies.
---