---
UPCOMING PARTNER EVENTS
* Scroll down to see past Partner webinar recordings
---
---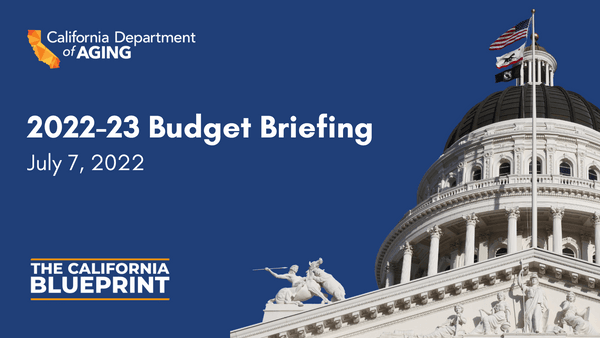 Join the California Department of Aging from 10:00 am - 11:00 am on Thursday, July 7, 2022 for our 2022-23 Budget Briefing.
 
CDA leadership will highlight new and continued investments in aging programs and services, and the Master Plan for Aging from the signed 2022-23 budget.

Closed captioning and American Sign Language interpreting will be available at this briefing. The webinar will be recorded and posted to CDA's You Tube Channel afterward.

Register Here
---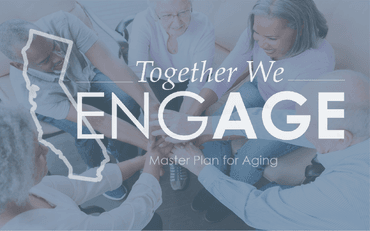 Implementing the Master Plan for Aging in CA Together (IMPACT) Stakeholder Committee
The purpose of the IMPACT Stakeholder Committee is to advise the California Health and Human Services Agency on the implementation of the Master Plan for Aging, focusing on accountability, outcomes, and continuous improvement towards the Plan's five bold goals for 2030.

The IMPACT Committee will meet on the following dates:
COMPLETED January 18, 2022 (9am - 11:00am)
COMPLETED April 19, 2022 (2:00pm - 4:00pm)
July 12, 2022 (1:00pm - 3:00pm)
October 11, 2022 (1:00pm - 3:00pm)
American Sign Language and closed captioning will be made available for all meetings. Video recordings, slide decks, and written transcripts will be made available for your viewing within a few business days following each meeting.
---

You are invited to a free, statewide webinar by the Disability Thrive Initiative. Please join us on Wednesday, July 13 at 3:00 PM for Building Lifelong Skills and Relationships Through Social Rec & Camp Services.
Many people with intellectual and developmental disabilities felt lonely or had mental health concerns during the pandemic. Now there's a new way to get support for connecting with others and building relationships! The state has restored funding for social recreation and camp ("social rec") services through regional centers. The disability community has been busy learning how to use this funding to support fun, friendships, adventure and social skills that will last a lifetime. Join our webinar to explore:
·     The benefit of social recreation for people with disabilities
·     Real-life examples of social rec programs designed by the people using them
·     How service providers can work with regional centers to start social rec programs
---

National Access and Functional Needs Symposium
The first-ever National AFN Symposium will be held virtually on July 19 & 20, 2022 from 9:00am – 12:00pm (PDT). Please help us promote the event by sharing the information below throughout your organizations, networks, and social media platforms.
About the Symposium:
The National AFN Symposium will bring the disability community together with emergency managers, disaster planners, and first responders from across the country in an online forum to foster an environment of trust and understanding vital to advancing the mission of access and functional needs throughout the nation.
Organized by the California Governor's Office of Emergency Services (Cal OES), the International Association of Emergency Managers (IAEM), the Colorado Division of Homeland Security and Emergency Management (CDHSEM), and New York University (NYU), the Symposium will highlight forward-leaning, inclusive, innovative practices in emergency management from across the nation. The event is sponsored by Big City Emergency Managers and the American Red Cross.
Registration link:
https://www.eventbrite.com/e/national-access-and-functional-needs-symposium-tickets-362727677247
---

CalAIM and Older Adults: Upcoming Changes in 2023
Jul 28, 2022 11:00 AM PDT
Starting January 1, 2023, a number of important changes will impact the way individuals dually eligible for Medicare and Medi-Cal and older adults on Medi-Cal receive their health care in California. The changes include those that are part of California's five-year initiative, California Advancing and Innovating Medi-Cal (CalAIM), and the implementation of new federal policies from the Centers for Medicare & Medicaid Services (CMS). This webinar will provide an overview of these changes and their impact on the approximately 1.4 million dual eligibles and low-income older adults in the state.

In this webinar, we will cover:
• The termination of Cal MediConnect and the transition of Cal MediConnect enrollees into Dual Eligible Special Needs Plans (D-SNPs)
• Mandatory enrollment into Medi-Cal managed care for all dual eligibles throughout the state
• The carve in of Medi-Cal's long-term care benefit into Medi-Cal managed care plans
• Transition of dual eligibles out of D-SNP look alike plans

Join Justice in Aging for this webinar, CalAIM and Older Adults: Upcoming Changes in 2023, to learn more about how your clients may be affected by these changes.

Who should participate:
• Aging and disability providers and community-based organizations working with individuals dually eligible for Medicare and Medi-Cal and low-income older adults and people with disabilities with Medi-Cal coverage only.
---
Save the Date for a Day of Action: California For All Ages & Abilities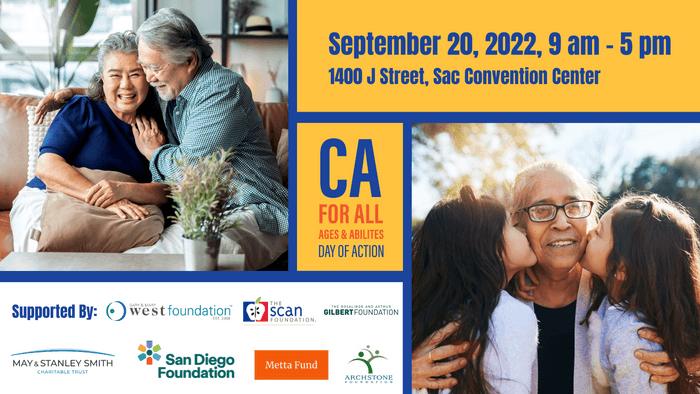 Join us Tuesday, September 20 for a full day, in-person event at the Sacramento Convention Center with our partners as we ask and explore the question:
Are You READY?
We are Re-envisioning Equity, Aging, Disability & You are part of it all. Together we are gathering with our stakeholders to present the priorities and platforms that impact Aging, Disability, and Equity. Be part of the progress as we move forward with California's Master Plan for Aging, and what 21st century readiness could look like. This full day of events will elevate the platforms of our stakeholders, their individual committees, and their collective voices as we prioritize the Master Plan for Aging in years three and four. 

Hear from some inspiring and well-known people, as well as those whose voices sometimes aren't heard from enough, through a series of big room events and breakout room smaller sessions as well. Additional details, agenda, and registration information to follow in the weeks to come. 

Learn more about the Master Plan for Aging.
---
---
RECORDINGS / MATERIALS OF PAST EVENTS
---
---

CBAS Updates webinar recording and PowerPoint slides from June 23, 2022.
---
---