---
UPCOMING PARTNER EVENTS
---
---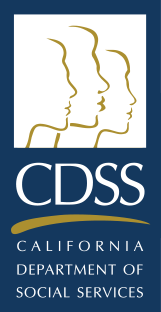 INFORMATIONAL CALL REGARDING INFECTION PREVENTION: UPCOMING COVID-19 REQUIREMENTS AND GUIDANCE
Informational Call via Zoom Wednesday, January 19, 2022 1:00 PM – 2:30 PM
The Community Care Licensing Division (CCLD) ASC Program invites you to our informational Zoom call on January 19, 2022 regarding "Infection Prevention: Upcoming COVID-19 Requirements and Guidance." Please have your staff join this call
This call will focus on: (1) providing COVID-19 updates; (2) offering COVID-19 testing information; (3) addressing vaccination and booster requirements; and 4) reviewing updated visitation requirements. The call also will feature a panel discussion and include an opportunity to ask questions.
Please click the link below to join the webinar:
https://ucsf.zoom.us/j/93700432518?pwd=dlp5T2xKSElrQkU1ZnVXZC8vVUNpQT09
Passcode: 167686 Webinar ID: 937 0043 2518
Or Mobile one-tap: US: +12133388477,,93700432518#,,,,*167686# or +16692192599,,93700432518#,,,,*167686#
Or Telephone: Dial (for higher quality, dial a number based on your current location): US: +1 213 338 8477 or +1 669 219 2599 or +1 669 900 6833 India: 000 800 001 4002 (Toll Free) or 000 800 050 5050 (Toll Free) Mexico: +52 554 161 4288 or 1 800 062 2403 (Toll Free)
International numbers available: https://ucsf.zoom.us/u/aep6OLmrNH
Panelists
• Louise Aronson, MD, MFA, Professor, Division of Geriatrics, University of California, San Francisco
• Josh Allen, RN, Principal, Allen Flores Consulting Group
• CDSS Representatives

CCLD also encourages licensees and staff to view the PowerPoint presentation available on the CCLD website while participating on the call.
Please continue to monitor the CCLD homepage for updated information regarding COVID-19.

If you have questions regarding this PIN, please contact your local Adult and Senior Care Regional Office.
---
DHCS CalAIM MLTSS and Duals Integration Workgroup January Meeting
On January 20, 2022, at 10 a.m., the Department of Health Care Services (DHCS) will host the CalAIM Managed Long-Term Services and Supports (MLTSS) and Duals Integration Workgroup meeting.
The goal of the workgroup is to collaborate with stakeholders on statewide MLTSS and Exclusively Aligned Enrolled Dual Eligible Special Needs Plans (D-SNP) enrollment, including the transition of the Coordinated Care Initiative (CCI) and Cal MediConnect (CMC), the D-SNP look-alike transition, and new enrollment in exclusively aligned plans. Under exclusively aligned enrollment, beneficiaries can enroll in a D-SNP for Medicare benefits and in a Medi-Cal managed care plan that are both operated by the same parent organization for better care coordination and integration.
Agenda items include an update on the 1115 Waiver Special Terms and Conditions (STCs) and the aligned enrollment policy, an update the 2023 D-SNP State Medicaid Agency Contract (SMAC), and an overview of the state-specific guidance on D-SNP and Medi-Cal network alignment.
Please register for the January 20 workgroup meeting, which is open to the public. Background materials, transcripts, and video recordings of the previous workgroup meetings, along with additional information about the workgroup, are posted on the CalAIM MLTSS and Duals Integration Workgroup webpage.
---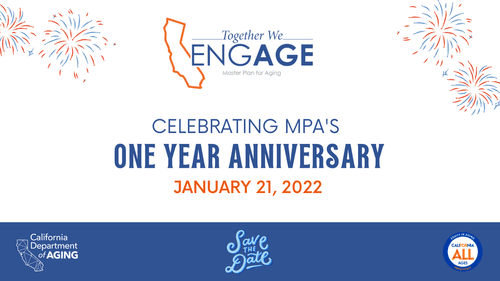 California's 10-Year Master Plan for Aging was launched one year ago!
With its Five Bold Goals and 23 Strategies, it has inspired unprecedented levels of coordinated action across California's growing network of aging and disability providers, policy makers, advocates, and experts. Join us to celebrate what we've been able to accomplish together in this first year and learn about what's planned for the year ahead. This event will be held virtually.
Meeting Details:
January 21, 2022 | 10:30am – 12:00pm
Join via smart phone, computer, or tablet
Or by phone: 888 788 0099 or 877 853 5247 (Toll-free)
Webinar ID: 869 2012 6705
ASL interpretation and closed captioning will be provided.
Confirmed Speakers:
Richard Figueroa, Deputy Cabinet Secretary; Governor's Office
Kim McCoy Wade, Senior Advisor on Aging, Disability and Alzheimer's, Governor's Office
Dr. Mark Ghaly, Secretary; CA Health and Human Services Agency
Lourdes Castro Ramirez, Secretary; Business, Consumer Services and Housing Agency
Natalie Palugyai, Secretary; Labor and Workforce Development Agency
Adrin Nazarian, CA State Assemblymember, District 46
Cheryl Brown, Former CA State Assemblymember, District 47
Ellen Schmeding, Chief Operating Officer; St. Paul's Senior Services and Chair of the CA Commission on Aging
Dr. Sarita Mohanty, President and CEO; SCAN Foundation
Dr. Fernando Torres Gil, Professor; UCLA
Kevin Prindiville, Executive Director; Justice in Aging
Christina Mills, Executive Director; CA Foundation for Independent Living Centers
Sarah May, Manager for the State Council on Developmental Disabilities, North State Regional Office
---

Eating Well to Promote Brain Health: The MIND Diet
When: Wednesday, January 26, from 11 a.m. to 12 noon (Pacific time)
Where: ONLINE
Cost: No charge
Registration: Click here
In the United States alone, it is estimated that more than 6 million Americans are living with dementia. This special webinar presented by public health nutritionist Jocelyn Dubin will explain the tools you need to feed your brain well and reduce your risk of Alzheimer's and other dementia.
Objectives:
·     Learn the best foods for brain health and wellness.
·     Discover how to combine foods to reduce your risk of Alzheimer's and other forms of dementia.
·     Learn easy shortcuts to get brain healthy foods on your plate without having to put in too much work.
Presented by Jocelyn Dubin, MS, RD
Jocelyn Dubin has a Master's Degree in Nutrition Science and has been a registered dietitian for 18 years. She is a public health nutritionist in the County of Santa Clara's Public Health Department Healthy Communities Branch. Jocelyn aspires to teach people to use food as medicine to promote health and well-being.
---

Register Today for NADSA's Upcoming Event:
101 Creative Activity Programs
January 27, 2022
10 a.m. PST/11 a.m. PST/12 Noon CST/1:00 p.m. EST
This webinar will focus and ways to strengthen your activities program and takes place during National Activities Professionals Week. For additional information and to register, please click on the following link: Activity Programs.
---

Using Data for Good—Towards More Equitable Home and Community-Based Services in Medi-Cal
When: Thursday, January 27, 2022 at 11:00 a.m. PT / 2:00 p.m. ET
Medicaid Home and Community-Based Services (HCBS) allow individuals to receive the care and supports they need to remain living at home and connected to their communities rather than having to go into an institution to receive care. To ensure access to HCBS is equitably available to those who qualify for services, comprehensive and publicly reported data based on race, age, geography, type of disability, and other factors is critical.
Drawing from our recently released paper for the California Health Care Foundation, this webinar, Using Data for Good: Towards More Equitable Home and Community-Based Services in Medi-Cal, will provide a summary of the challenges to data collection in the current HCBS infrastructure, discuss recommendations to address gaps in data collection and reporting, and provide strategies to move these recommendations forward. 
Who Should Participate:
· California advocates, HCBS providers, and policymakers 
· Advocates in other states interested in increasing equitable access to Medicaid HCBS 
Presenters:
· Amber Christ, Directing Attorney, Health Team
· Tiffany Huyenh-Cho, Senior Staff Attorney 
Capacity for this session is limited to 1,000 participants, and all participants will have the option of accessing audio through the computer or by phone. Closed captioning will be available. Please be sure to log onto the webinar a few minutes early in order to secure your place for the live presentation on Zoom. The presentation will be recorded and available for later viewing. The recording & training materials will also be emailed to all registrants within a few days after the training.
---

Governor's 2022-23 Budget for California's Older Adults and People with Disabilities
PUBLIC WEBINAR
January 27, 2022  |  12:00 - 1:30 pm PT
On January 10, the Governor released his 2022-23 state budget proposal – a $286.5 billion plan that continues to provide funding for immediate COVID-19 response and relief efforts, while building on the momentum of innovation and investment spurred by the pandemic.
 
California is projected to kick off the fiscal year with a $45.7 billion general fund surplus, including $20.6 billion in discretionary spending. The budget prioritizes health care affordability, expansion of workforce training and opportunities, and affordable housing. It continues to support Master Plan for Aging implementation, establishes a permanent IHSS back-up provider system, and proposes a meaningful increase to monthly SSP payments.
 
Join the California Collaborative on Thursday, January 27, as we walk through these and other investments that will impact California's older adults and people with disabilities. The agenda and additional details will be made available soon!
 
---

Advancements in California's Direct Care Workforce Webinar
February 1st, 10:00  - 11:30 a.m.
Expanding California's statewide network of home and community-based services relies on a robust direct care workforce. The California Health & Human Services Agency (CalHHS) and CA Labor and Workforce Development Agency (LWDA) are spearheading a variety of budget initiatives to ensure that all settings have access to vital direct care staff through investments in pipeline development, recruitment, training, compensation, career ladders, and cultural competency.

CDA, on behalf of CalHHS, together with LWDA, is hosting a stakeholder webinar on Tuesday, February 1 from 10:00 am – 11:30 am. This webinar is open to all stakeholders interested in learning more about the historic investments in California's direct care workforce. Representatives from both agencies currently implementing workforce initiatives will present progress reports on the efforts underway to recruit, train, and compensate California's direct care workforce.

Register to learn more about how these initiatives impact your constituents, programs, services, and community. ASL interpretation and Closed Captioning will be provided.
---

2022 Virtual Winter Summit
March 9-10, 2022
The 2022 Virtual Winter Summit, slated for March 9-10, will highlight ways to grow and expand your ADS Center. Topics to be discussed include:
·     The HCBS Landscape
·     Implementing Home Care to Compliment ADS
·     The Future of Senior Care Healthcare Coordination
·     Implementing Healthcare Coordination into Your Operations
·     Coalescing Additional Services in ADS
For additional information and to register, please click on the following link: Winter Summit.
Please note that attendees will receive recordings of all the sessions in The Winter Summit.
---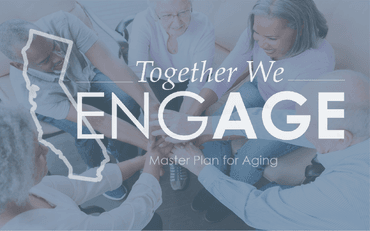 ---
Implementing the Master Plan for Aging in CA Together (IMPACT) Stakeholder Committee
The purpose of the IMPACT Stakeholder Committee is to advise the California Health and Human Services Agency on the implementation of the Master Plan for Aging, focusing on accountability, outcomes, and continuous improvement towards the Plan's five bold goals for 2030.

The IMPACT Committee will meet on the following dates:
COMPLETED January 18, 2022 (9am - 11:00am)
April 19, 2022 (2:00pm - 4:00pm)
July 12, 2022 (1:00pm - 3:00pm)
October 11, 2022 (1:00pm - 3:00pm)
American Sign Language and closed captioning will be made available for all meetings. Video recordings, slide decks, and written transcripts will be made available for your viewing within a few business days following each meeting.
---
---
RECORDINGS OF PAST EVENTS
---
---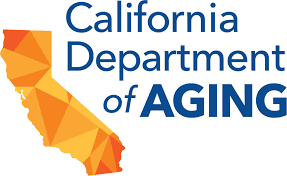 The CDA CBAS Bureau hosted a webinar on Wednesday, December 9, 2021, to provide relevant CBAS program updates. The webinar recording and slides are available now on the CDA Training webpage.
---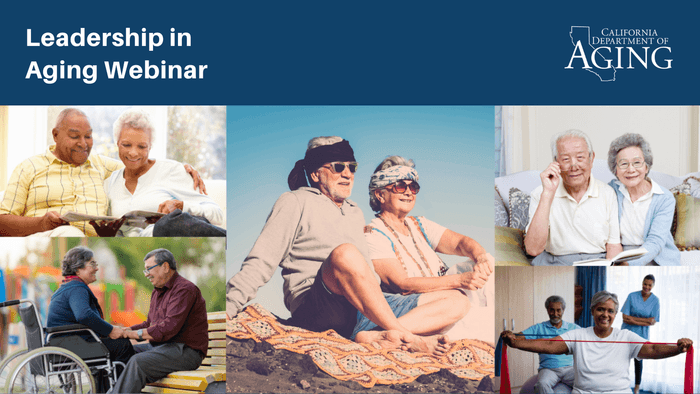 ---