CAADS Events At-A-Glance
CalAIM & LTSS: Implementation Reflections & Opportunities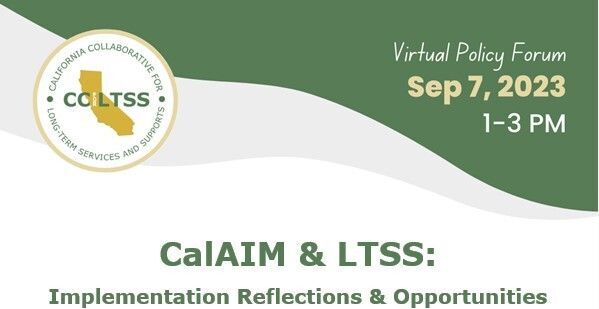 Co-Hosted by the California Collaborative for Long-Term Services and Supports (CCLTSS), Insure the Uninsured Project (ITUP), and Chapman Consulting. Made possible with funding from the California Health Care Foundation (CHCF).
The September 7th virtual policy forum will feature state and local leaders discussing opportunities and challenges around CalAIM and Long-Term Supports and Services (LTSS) implementation. Join the Collaborative, ITUP, and Chapman Consulting to:
• Consider reflections and themes that emerged from 6 months of facilitated LTSS Listening Sessions; 
• Hear about CalAIM implementation from Medi-Cal managed care, LTSS providers, and advocates;
• Receive updates from DHCS on early learnings and look forward to future implementation activities, and;
• Engage with panelists on considerations for making CalAIM and LTSS meaningful for impacted Californians.