CAADS Events At-A-Glance
CAADS Member-Exclusive Webinar: Not a Bridge Too Far: How to Put Your Best Foot Forward in Applying for Bridge to Recovery Funding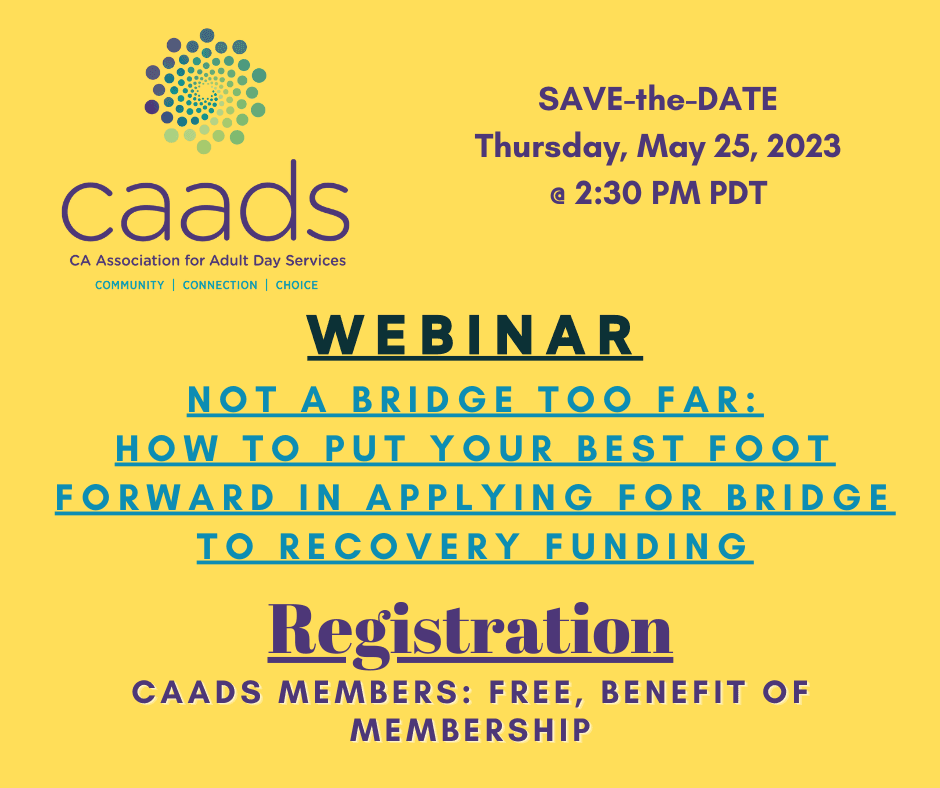 Are you a fully licensed Adult Day Program or Adult Day Health Care provider interested in applying for the Bridge to Recovery (BTR) grant funding and not sure where to start? BTR is a rare opportunity for both not-for-profit and for-profit centers to apply for state one-time funding. If you want to better understand the Bridge to Recovery Grant Funding requirements and increase your chances of success, you don't want to miss this webinar.
Interim Executive Director Lydia Missaelides is excited to host this CAADS member-exclusive panel discussion featuring an all-star panel of experienced providers along with a professional grant writer, who will share their recent successes in obtaining state grants for their centers. Learn hot tips and advice on how to organize, prepare, and submit a complete persuasive grant application. We will have plenty of time for questions or you can send them in advance to lydia@caads.org.
PRESENTERS
Lydia Missaelides, MHA, Interim Executive Director, CAADS, Executive Director, Alliance for Leadership and Education
Lena Haroutunian, MSW, Program Director, New Sunrise ADHC
Dr. B.J. Bischoff, Owner, Bischoff Consulting, Sonoma, CA
Katy Krul, Administrator, Oxnard Family Circle ADHC
Kay Lee, JD, MPH, Vice President, Commonwealth ADHC
COST
CAADS MEMBERS: No Cost (A benefit of membership!)
NON MEMBERS: Must join to attend.