CAADS Events At-A-Glance
CAADS Legal Webinar: Managing California's Vaccine Mandate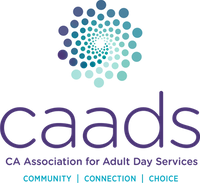 CAADS Legal Webinar: Managing California's Vaccine Mandate
Wednesday, January 19, 2022
10:00 AM – 11:00 AM
You DON'T want to miss this webinar and here are a few reasons why!
- It's important to understand the current COVID-19 vaccine mandates as it applies to center staff
- It's specifically tailored to Adult Day Services by the Shaw Law Group
- It's offered at a great rate…keep in mind that the hourly rate to talk with a legal representative is quite high and CAADS knows how important accurate information on this topic is!
- AND it will NOT be recorded and will NOT be made available later
WHAT WE'LL COVER
This training will cover the current COVID-19 vaccine mandates applicable to adult day services. We will discuss how to address situations where employees cannot or will not comply with the mandate, and will discuss privacy considerations related to vaccination inquiries.
PRESENTER
Megan Donaghey, Of Counsel, Shaw Law Group
Megan Donaghey is an experienced attorney and human resources professional who conducts impartial investigations, provides employment law advice and counsel, and conducts training on workplace issues.
As an investigator, Megan evaluates complex and sensitive workplace complaints of sexual and other workplace harassment, discrimination, retaliation, and wage-hour violations.
Megan also provides advice to employers on a variety of employment law topics, including Form I-9 compliance, managing leaves of absence, and EEO issues. Clients appreciate Megan's business-minded approach to solving workplace challenges.
Megan provides dynamic and interactive training sessions on a variety of employment law topics including EEO compliance.
Prior to joining Shaw Law Group, Megan worked for an employment law boutique, and spent 15 years as an Employee Relations Director for an international Fortune 500 company.
Megan is a certified Senior Professional in Human Resource Management, an Association of Workplace Investigators (AWI) Certificate Holder, and a current board member of the Northern California Employment Roundtable (NCERT).
REGISTRATION
NON MEMBERS: $249 Per Registrant
CAADS MEMBERS: $99 Per Registrant