CAADS Events At-A-Glance
CDA & CCOA: Hubs & Spokes Network for Aging & Disability Virtual Townhall Meeting (Los Angeles & Southern California Event)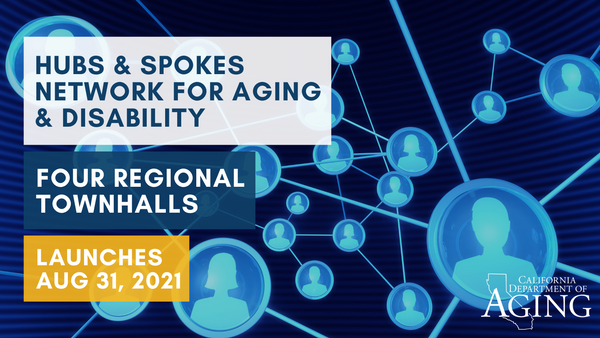 CDA & CCOA, in partnership with local Aging and Adults leaders, invite you to a Virtual Townhall Meeting to discuss:
Strengthening and modernizing California's aging and adult services statewide
More and more diverse Californians are seeking to live in the homes and communities we choose as we age. Nationwide, a new poll from the SCAN Foundation found that 88% of Americans prefer to receive assistance living at home or with loved ones [AP-NORC, May 2021]. As the share of the population that's over 60 grows to the 25 percent of the population – and exceeds the population 18 and under for the first time – a strong network of Aging Hubs & Spokes to easily connect people to services that empower living in homes and communities of choice is essential to a California for all ages. 
Vision: A strong Aging "Hub and Spokes" in every community is key to all Californian adults and families navigating and accessing these choices for home and community living:
Easily accessible "hubs" for aging services provide the public with information, planning, and care coordination that's person-centered and culturally responsive. Aging "spokes" connect the public to a range of community, county, health, and other partners to support health, life satisfaction, and longevity
Opportunity: Now, with unprecedented resources proposed at the state and federal level for home and community living as we age, a bold Master Plan for Aging calling for renewed leadership at all levels, and the searing lessons and losses from the COVID-19 pandemic, there's a historic opportunity for California's aging and adult services to "build back better." 
Invitation: To advance these initiatives on leadership in aging together, CDA and CCOA invites you to participate and engage in our discussions. Share your thoughts, feedback, questions, and concerns at one of our four virtual townhall discussions. All feedback received will inform a report produced by CDA in December 2021 and could result in legislative, regulatory, budgetary, administrative, and/or partnership proposals in 2022.
Your feedback is important as we begin to build back better a California for all ages.
Sacramento & Central Valley Townhall
HELD 8/31 | 2:00pm – 3:30pm
Bay Area & Central Coast Townhall
HELD 9/14 | 2:00pm – 3:30pm
Rural & Remote California Townhall
HELD 9/28 | 2:00pm – 3:30pm
Los Angeles & Southern California Townhall
10/12 | 2:00pm – 3:30pm
Registration link below
Learn more about the Hubs & Spokes Network for Aging & Disability.