CAADS Events At-A-Glance
The Master Plan for Aging: Five Bold Goals for 2030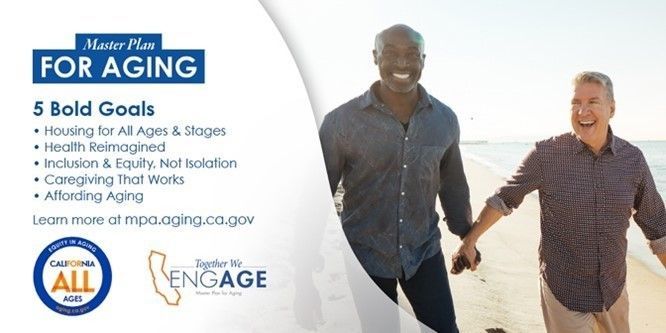 You are invited to attend the Master Plan for Aging's Five Bold Goals Virtual Summit on Wednesday, January 13th from 1-4 p.m. Please note the updated webinar link since our last newsletter. The California Health & Human Services Agency and the California Department of Aging will be joined by several key State partners, stakeholders, and legislative leaders for a discussion of the Master Plan's vision for building a California for all ages.
To Join the MPA's Five Bolds Goal Virtual Summit
Click the UPDATED LINK below to access via tablet, phone, or computer
To access audio via telephone: (888) 788-0099
Webinar ID: 950 8243 0243, Passcode: 693181
No Registration Required, Open to the Public
Closed Captioning will be available
Event Agenda & Confirmed Panelists:
1:00 - 1:15 pm: Opening & Introductions
Richard Figueroa, Deputy Cabinet Secretary, Governor's Office and Kim McCoy Wade, Director, CA Department of Aging
1:15 - 1:45 pm: Goal One: Housing for All Ages and Stages
Remarks by Lourdes Castro Ramirez, Secretary of CA Business, Consumer Services, and Housing Agency; CA State Senator Scott Wiener; and Rafi Nazarians, CA AARP Associate State Director
1:45 - 2:15 pm: Goal Two: Health Reimagined
Remarks by Maya Altman, CEO of Health Plan of San Mateo and Will Lightbourne, Director of CA Department of Health Care Services
2:15 - 2:45 pm: Goal Three: Inclusion and Equity, not Isolation
Remarks by Kim McCoy Wade, Director of the CA Department of Aging; State Senator Melissa Hurtado; and Edie Yau, Director of Diversity & Inclusion at Alzheimer's Association, Northern California & Nevada Chapter
2:45 - 3:15 pm: Goal Four: Caregiving That Works
Remarks by Julie Su, Secretary of CA Labor and Workforce Development Agency and Donna Benton, Director of USC's Family Caregiver Resource Center
3:15 - 3:45 pm: Goal Five: Affording Aging
Remarks by Kim Johnson, Director of CA Department of Social Services and Kevin Prindiville, Executive Director of Justice in Aging
3:45 - 4:00 pm: Next Steps & Closing Thoughts
Dr. Mark Ghaly, Secretary, CA Health & Human Services Agency and Marko Mijic, Deputy Secretary, CA Health & Human Services Agency
The Master Plan for Aging includes a 10-year blueprint for promoting healthy aging—including Five Bold Goals for building housing for all ages, improving access to health services, providing inclusive opportunities for seniors to live and work without fear of abuse and neglect, bolstering the caregiving workforce, and increasing economic security for aging Californians. The Master Plan's Five Bold Goals are driven by 23 Strategies and powered by 100+ Action-Ready Initiatives for leaders in government, business, philanthropic, and community-based organizations to collaborate on creating age-friendly communities for all Californians.