WEDNESDAY, SEPT 15, 2021 | 10:30 AM - 12 PM
SEPTEMBER 15 - WHAT WE WILL COVER
Whether you are talking with participants, family, friends or colleagues, empathetic listening is a skill that facilitates meaningful conversation. Now that discussions about vaccination and testing are necessary and urgent because of state mandates we can learn from experienced health professional partners how to communicate with empathy and tolerance while supporting our need for "psychological PPE" during this unprecedented time.
HOST
Lydia Missaelides, MHA, Executive Director, Alliance for Leadership and Education
PRESENTERS
- Keith Chartier MPH, Associate Executive Director at Health Services Advisory Group (HSAG), the Medicare Quality Innovation Network-Quality Improvement Organization for Arizona and California
- Claudia Kinsella, MSN, RN, RN-B-C, Quality Improvement Specialist at HSAG
- Karen Schindler, PT, Senior Clinical Improvement Advisor at HSAG
FEES
CAADS MEMBERS: No Charge
NON MEMBERS: Registration fee waived
Note: Sept 15 is the last in the series of Archstone Foundation supported "free" webinars that are open to all CAADS non-members
---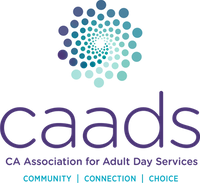 WEBINAR | Thursday, September 16, 2021, from 1:00 PM to 2:00 PM
NOTE: This webinar will be live attendance only. It will NOT be recorded and, therefore, it will NOT be available at a later time. Register today!
NOTE:  CDPH AFL 21-34 released Sept. 9, 2021 will be covered
WHAT WE'LL COVER
CAADS is excited to announce our upcoming webinar, "Mandatory Vaccinations in Adult Day Health Care Centers."  We know many of you have questions about the California Department of Public Health's mandatory vaccination orders, and we are here to help! Jennifer Shaw, an employment law expert and long-time friend of CAADS, will facilitate this 60-minute training session regarding the orders and the applicable medical and religious exemptions to the vaccination requirements.  Bring your questions!
PRESENTER
Jennifer Shaw, President, Shaw Law Group
Jennifer Brown Shaw is a founding partner of Shaw Valenza LLP. A well-respected expert in employment law for more than 20 years, employers rely on Jennifer to provide practical advice and counsel on a broad range of employment law issues. She is a trusted advisor to HR professionals and leadership teams in a wide variety of organizations and industries.
REGISTRATION
NON MEMBERS: $199 Per Registrant
CAADS MEMBERS: $75 Per Registrant
Registration includes access to the webinar for each attendee/email address registered. Advance registration is required. Please complete the registration form and return it with payment to CAADS by 4:00 PM on Wednesday, September 15, 2021. We CANNOT process registrations received after this deadline. You will receive a confirmation email with log-on information after CAADS receives and approves your registration and payment.
Internet connection and speakers / microphone OR access to a telephone for the audio presentation is required.
NO REFUNDS; however, substitutions will be accepted if made by 8:00 AM Thursday, September 16, 2021 by email to pam@caads.org.
REMINDER: CAADS staff are working remotely, so email is the best way to communicate.